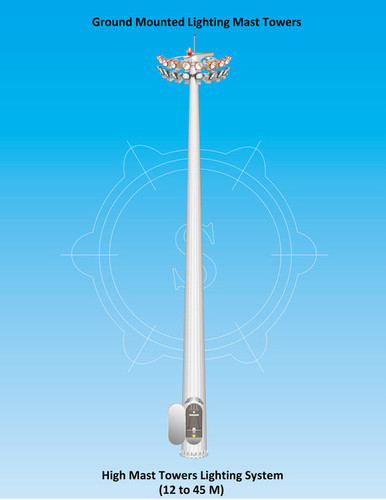 Ground mounted High Mast Lighting Tower
Product Code : Sigma14
Product Description
High-Mast lighting tower is a high pole with lighting linked to the top pointing to the ground, typically but not always utilized to light a recreational field or a highway. It is taken into use at sites needing lighting over a huge area. The pole which the lighting is erected on is commonly minimum 30 metres (98 ft) high, though the lighting comprises of a luminaire ring across the pole with one or numerous autonomous lighting fittings fitted around it. Utmost units possess four, six/ eight lights in the loop, along with ten, twelve and sixteen lights utilized in fewer illustrations. Though the greatest high-mast lights are great-pressure sodium, other sorts like mercury vapor, LED, and metal halide have also been utilized. Few units have the lighting enclosed via a circular shield to protect or decrease light pollution/ light trespass from disturbing areas next to to the highway.
Fortified to hold the finest designs for all lighting usages such as traffic junctions, stadiums, sea ports, container yards, airports, railway marshalling yards, etc.
Masts approving to numerous wind zones, terrains, and heights have been fitted in India and abroad.
To provide scalable designs of whole raising and lowering systems.

Specification for Ground mounted High Mast Lighting Tower

S No.

Description

High Mast Tower With telescopic Lights cradle

1

Material of construction

M.S. Plates formed into a polygonal shape

2

Regional basic Wind speed

33m/sec (118km/hr)
44m/sec(158km/hr)
50m/sec(180km/hr)

3

Gust Factor

1.15
1.25

4

Topography Configuration

1.0

5

Mean probable design life

25 years

6

Height of the Towers

From 12 metres to 45 metres

7

Height Variation Factor

As per IS Code 875: 1987(part 3)

8

Terrain Category

As per the site requirement

9

Winches

Motor operated / Manually operated

10

Number of Lights Cradles

One/Two

11

Number of Lights on each Cradles

As per clients requirement

12

Area of cross Section of the Luminaries

As per design of the luminaries offered

13

Anti-rust treatment

Hot Dip Galvanising

14

Mast Lighting Control Panel

IP 55 Protection. Suitable number of Incoming MCB isolator, Copper wiring, suitable timer, contactor to switch on the luminaries at a pre-set time. There would be suitable control arrangement to change the direction of rotation of the power tool-motor.

15

Luminaries

Sigma luminaries with highly polished stainless steel reflectors or as per customer/design requirement
Contact Us
P-27 Sagar Manna Road, Behala, Near Parnashree Bus Stand, Kolkata, West Bengal, 700060, India
Phone :+917259681346