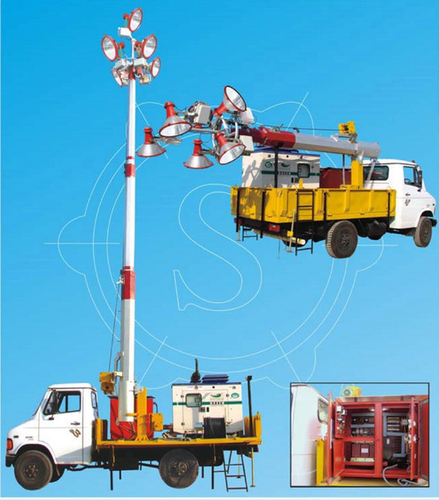 Truck Mounted Telescopic Tilting Type Tower
Product Code : Sigma13
Product Description
Our Truck Mounted Towers are designed to be fitted by the client on a truck. These are obtainable up to 100 feet (30.5m). The towers are elated in a horizontal position. At the location, they are effortlessly sloped to their vertical situation, then mounted to anticipated height. Truck and tower are trolled to the rear of truck. Following which, the tower is rotated to the upright position.
The exclusive characteristic of this truck mounted tower is the gliding track design that lets the tower to be positioned front to rear over the truck. It permits the operator to transfer the tower from the horizontal to the vertical location with the least effort. These are fortified with roller guides for ensuring smooth procedure. The roller guides cushion every section from the completely retracted location to the completely extended position.
Highly effective in night, emergency case, remote rural area, high building lights supply.
Possess auto locked and auto extended system
Highly used in Military PLA, rescue team, fire truck company, specialty vehicle refitted organization and Red Cross.
Highly energy efficient
Specification for Telescopic Tilting Type Tower Mounted on Truck Chassis With
Green Genset & Acoustic Cover (CPCB Approved)

Type of Towers

Telescopic tilting type mounted on truck chassis.

Material of construction

M.S. Plates formed into octagonal / polygonal shape

Regional basic Wind speed

a. 33 m/sec (118 km/hr)
b. 44 m/sec (158 km/hr)
c. 50 m/sec (180 km/hr)

Gust Factor

1.15

Topography configuration

a. 1.0
b. 1.3

Mean probable design life

25 years

Height of the towers

a. 9 meter including the height of trolley & cradle
b. 11 meter including the height of trolley & cradle

Height Variation Factor

As per IS Code 875:1987 (Part 3)

Terrain Category

Category 1 Class A as per IS 875:1987 (Part 3)

Winches

Motor operated / manually operated

Number of Lights Cradles

One /Two / Three

Number of Lights

Four/Six/Eight/Nine/Twelve.

The Tower would be designed with provision for at least 4 lights to be fitted on one side of the cradle if required.

Area of Cross Section of the Luminaries

As per design of the luminaries offered.

CONFIGURATIONS

Winches

No. of Lights

D. G. Set Capacity

Manually operated
Motor operated

Four / Six / Eight
Nine / Twelve

5 KVA / 7.5 KVA
10 KVA / 15 KVA

Hinging /Telescopic
Arrangement

The system would have an arrangement for installing and maintaining lights at ground level. The tilting arrangement of the Tower would be perfectly balanced and would not give any jerk or need a push / pull to activate the operation

Truck Base

A 5 mm thick chequered plate base platform would be provided over the cab load body. The platform would be mounted using a minimum 200 mm MS Channel and U bolts or any other necessary arrangements so as to maintain sufficient clearance between wheels and platform. Suitable long life liners would be provided between truck chassis and channel of the platform.
The base shall be provided with suitable number of riggers of suitable extendable length to provided complete stability of structure when fully erected. The riggers after extension shall be grounded with the help of screw jacks having suitable free base of steel / cast iron. The location of the DG set, light control panel and other required accessories would be such that all are easily accessible for maintenance and operation. A suitable ladder would be incorporated in the system to make it accessible for maintenance. Suitable mud guards would be provided.

Mast Lighting Control Panel (MLCP)

The MLCP shall be of outdoor type having IP 55 class of protection with incomer for power from mains/DG Set. 30mA RCBO of adequate rating shall be provided as main incomer and MCBs shall protect the outgoing cables from short circuit. The cables from MLCP to the individual luminaries shall be prewired and so laid and protected that it does not infringe with raising and lowering of the segments of tower. For motorized winches the interlocking arrangement should be provided to ensure that the tower tilting winch cannot be operated while the tower is in telescopic mode and vice versa. Suitable transformer can be incorporated into the system to meet the specific output requirements.

Design

We can supply complete design calculation for the towers selected. Most of our towers are type tested by a Govt. Test Laboratory.
Contact Us
P-27 Sagar Manna Road, Behala, Near Parnashree Bus Stand, Kolkata, West Bengal, 700060, India
Phone :+917259681346